Man of the Year – CEO Nominated 2018
First Man of the Year event hosted at San Bernardino Valley College
Assemblymember Eloise Gomez Reyes hosted the Inland Empire's first ever Man of the Year ceremony on Friday, August 24.
Exemplary men who have gone above and beyond in their communities were recognized with a certificate in front of a packed crowd inside KVCR Studios at San Bernardino Valley College.
"Friday night we honored 25 finalists in the 47th Assembly District who exemplify exceptional service to their community," said Assemblymember Reyes. "It is an honor to recognize these successful and altruistic men who continue to be mentors to community members throughout the 47th Assembly District and the Inland Empire. Congratulations to Ipyani Lockert for being selected as the 2018 Man of the Year."
Ipyani Lockert of Fontana was selected as the 2018 Man of the Year award based on his work with Motivational Realizations, California Partnership and other community organizations within the Inland Empire.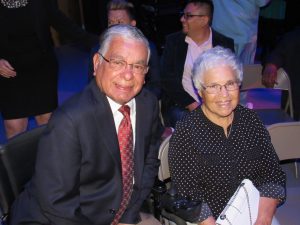 Each of the finalists were recognized with a speech detailing their significance within the community before taking the stage to accept their certificate and thank their community.
"I'm very humbled to be acknowledged at this level. It means a lot to see the names of those I'm being recognized with, it's exciting. It's an honor to do great things for the community. My wife Racheal believes in uplifting people in the community and helping them be the best they can be," said Aaron Burgess Sr., executive director of California State University, San Bernardino's Santos Manuel Student Union.
Out of 80 nominations received, 25 finalists made the cut.
"This is the first time we've done anything like this. My office received over 80 nominations throughout the community. You all inspire me," said Reyes.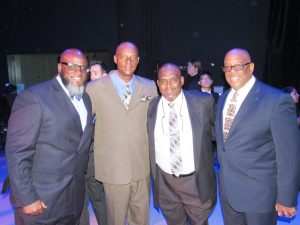 The start of the ceremony began with an ice-breaker activity. All attendees had to stand back to back with someone whom they did not know and then revealed to their partner something that they always wanted to do as a child.
"KVCR is aiming to continue to be an asset to the community. When approached to host events such as this, this answer is always 'yes.' It's an honor to help make a difference in our community, it's important to recognize and promote those who do good for themselves and the community. It's important as a media station to acknowledge that," said Ralph Cooper, director, Foundation and Development, KVCR.
Many of the nominated men who went up on stage expressed having felt that it was unbelievable that they were nominated for Man of the Year.
"When I got the phone call about all of this I thought they were joking. My wife started laughing. After going through what I went through when I was a young adult, it has got me all the way here…today. I want to thank my wife, my mother-in-law and father-in-law," said Man of the Year finalist James Tillman.
Those who were honored at the ground breaking event included Aaron Burgess, Sr., Artist Gilbert, Bishop Gerald Barnes, Dr. Dev Gnanadev, Dwain Radden, Sr., Gary Ferrer, Ipyani Lockert, Jack Long, James Tillman, Jeffrey McConnell, Jerry Almendarez, John Braxton Jr., Leno Moreno, Lowell King, Lt. Mike Madden, Michael Garcia, Russell Degnan, Rev. Samuel Casey, Sandy Torres, Terry Abernathy, Thomas Rocha, Tom Rivera, Vin Ho, Walter Hawkins and Wilfred Marshall.
https://www.pbs.org/video/man-of-the-year-ceremony-vuet6j/